Initial Claims Drop To Lowest Since Covid Crisis But 16.9 Million Americans Still Remain "On The Dole"
Last Friday's shockingly bad payrolls report is fading into the memory following a blistering CPI report, a hot PPI and moments ago, another very strong initial jobless claims report according to which adjusted initial claims dropped to just 473,000, a decrease of 34,000 from the previous week's revised level, stronger than the 490K expected...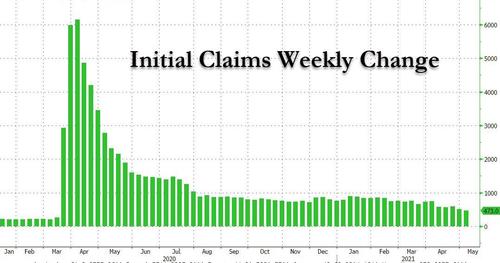 ... and the lowest level for initial claims since the last pre-covid print on March 14, 2020 when it was 256,000. The previous week's level was revised up by 9,000 from 498,000 to 507,000. The 4-week moving average was 534,000, a decrease of 28,250 from the previous week's revised average. This is the lowest level for this average since March 14, 2020 when it was 225,500. The previous week's average was revised up by 2,250 from 560,000 to 562,250.
Broken down by state, Goergia was the biggest increase in first-time filers, while Michigan, NY and Vermont enjoyed the biggest decline in initial claimants.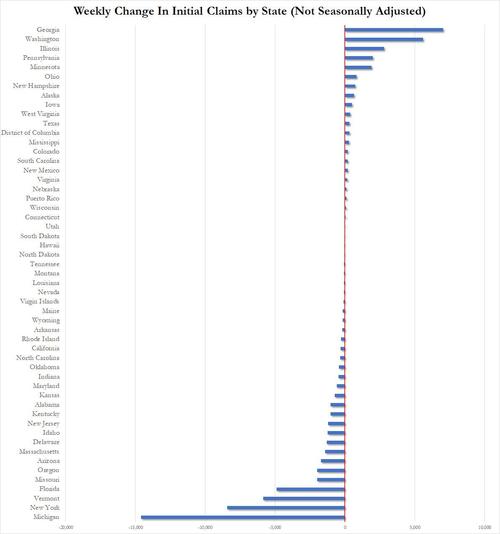 Meanwhile, continuing claims of 3.655MM, also declined modestly from an upward revised 3.700MM, if some 5k above consensus expectations.
Yet despite the clear continued improvement in headline initial claims, the total number of Americans on some form of government jobless benefits actually rose sharply from 16.2 million to 16.9 million...

... of which some 12.5 million are extended pandemic related claims, a number which we expect to drop sharply as more and more republican states halt such job crushing handouts.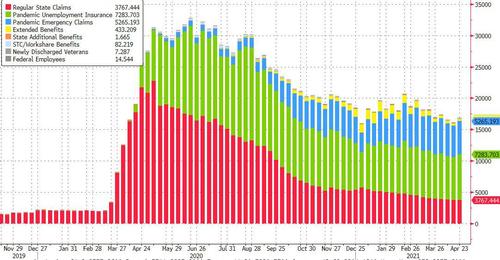 Tyler Durden
Thu, 05/13/2021 - 08:47