Russia To Station Tactical Nukes In Belarus By July, Putin Says On State TV
Russia has reportedly struck a deal with neighboring Belarus to station tactical nuclear weapons on its territory, Tass news agency quoted Russian President Vladimir Putin as saying on Saturday.
Belarusian President Alexander Lukashenko has long raised the issue of stationing tactical nuclear weapons in Belarus, which borders Poland, Putin said in comments broadcast on state TV Saturday..



"We agreed with Lukashenko that we would place tactical nuclear weapons in Belarus without violating the nonproliferation regime," Tass quoted Putin as saying.



Russia's tactical nuclear weapons might arrive to Belarus as early as this summer, Putin said.
As Al Arabiya reports, Putin claims such a move would not violate nuclear nonproliferation agreements, pointing out that the US has "long deployed their tactical nuclear weapons on the territory of their allied countries,"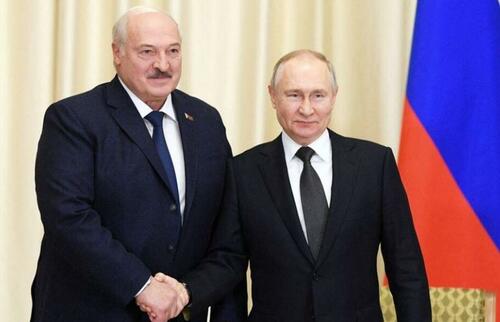 Moscow is finishing the construction of a specialized storage for such arms amid repeated calls by Minsk to deploy tactical nuclear weapons on the Belarusian territory, he added.
The storage in Belarus will be ready on July 1, Putin told Russia 24 TV.
Putin also said that Moscow does not plan to hand over control over any tactical nuclear weapons to Minsk but would only deploy its own arms to the Belarusian territory.
He did not specify when exactly the weapons would be transported to the new storage.
Bloomberg reports that Russia has already stationed 10 aircraft in Belarus capable of carrying tactical nuclear weapons, with Putin noting that Iskander short-range missiles - capable of carrying nuclear warheads - had also been sent to Belarus, and training for crews would begin there on April 3.
Tyler Durden
Sat, 03/25/2023 - 13:59